6 DIY Craft Ideas to Create
Ready to get creative (and spooky) for the scariest time of the year? We sure are! That's why we've collected a bunch of DIY craft ideas to help you prepare for Halloween. From simple and cheerful ones to more complex ideas for you to try, we'll help you get prepared for Halloween.
If you're accomplished with knitting or felting then this is going to be a fun challenge! Mummies are a great ideas for decorations.
To make these dolls you'll need

White wool yarn

Knitting needles

Fiberfill stuffing

A yarn needle

5 buttons

Embroidery needle and floss
Create the body and then stuff with the fiberfill and sew the pieces together!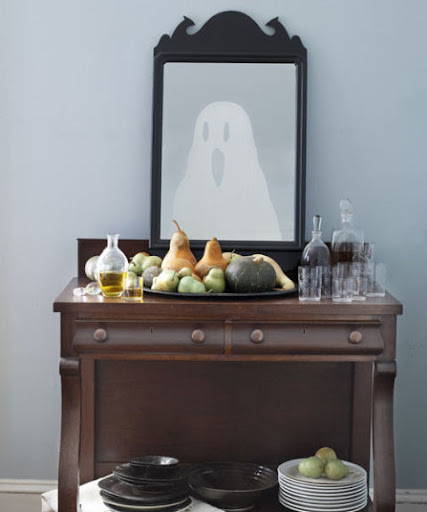 Grab one of your mirrors and get it Halloween-ready! Cover it with tissue paper and create shapes of ghosts or whatever you can think of.It's even better when you use the mirror together with other decorations, like the mummy doll or jack-o'-lanterns to really push the Halloween theme.
A cheap and cheery craft, using paper to create a series of bats hanging from the ceiling is a great way to decorate your home.All you need is

Black paper

Scissors

String
Cut your bats, attached them to the string (ideally transparent so it look like they're flying) and find somewhere to hand them. Finding a tree branch and painting it black is the best way to make a thematic display.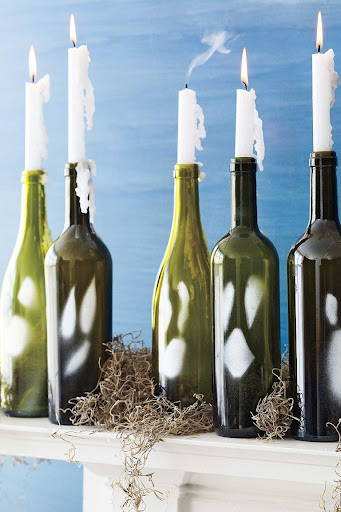 Have some empty wine bottles laying around? Perfect! You can transform them into trapped ghosts. To do this, remove any labels on the bottles (warm water and soap is a good way to do this), grab some copy paper, scissors, white spray paint and candles. Draw some shapes of eyes and mouths onto the paper and cut out the designs. Use them as stencils and spray directly onto the bottles.

Melt the bottom of some candles and inset them into the opening of the bottles to create some scary candle holders!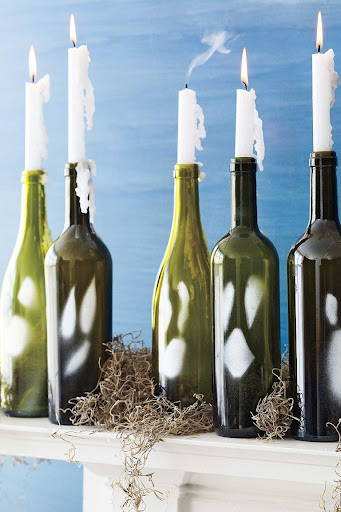 Don't have any pumpkins? You can easily get the same effect with some large milk bottles. Using black markers draw some faces onto the containers. Drop some small LED lights inside and they'll be ready for Halloween.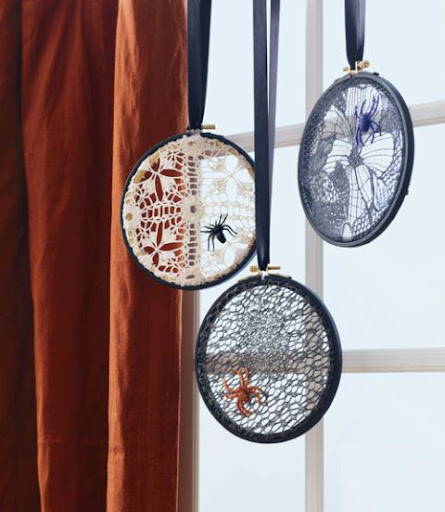 No one likes spiders and even just a web makes you think of Halloween. Doing it this way there won't be a mess of fake webs all over the house.
You'll need:
Embroidery hoops

Black spray paint

Lace or crocheted fabric

Black Ribbon

Plastic spiders
To start, spray paint your hoops black and cut out a wide circle of your fabric. Once the hoops dry, insert the fabric and add ribbon to hang at the desired length. Finally, add the plastic spiders either with glue or by hanging off the fabric.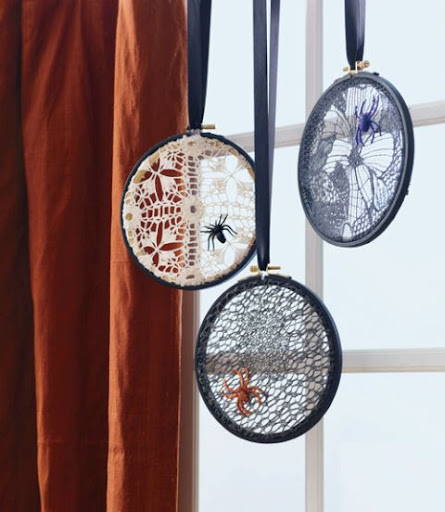 Love Diamond Painting? We've got whole collections of Halloween products for you to get ready before Halloween. See the collections below.