Discover and Enjoy the Beauty of
Mandala Diamond Paintings
Mandalas have long been used by Hindu and Buddhist cultures as a symbol of spirituality and meditation. These artistic designs are meant to represent the universe in all of its facets and are believed to illustrate the cosmic process that brings us from a time of difficulty to one of joy.

In a way, they can be a great symbol that reminds us that there is a light at the end of the tunnel and that after bad times there is always some good waiting for us. That's why we have decided to include them in our diamond painting collections. Here are some of our Mandala themed products:
Our connection to nature is important and this Luminous Diamond Painting Mandala shows just how beautiful it can be.

The design evokes the blossoming of flowers in spring and thanks to the unique glowing rhinestones that come with the Diamond Painting Kit, you can enjoy its floral beauty even at night.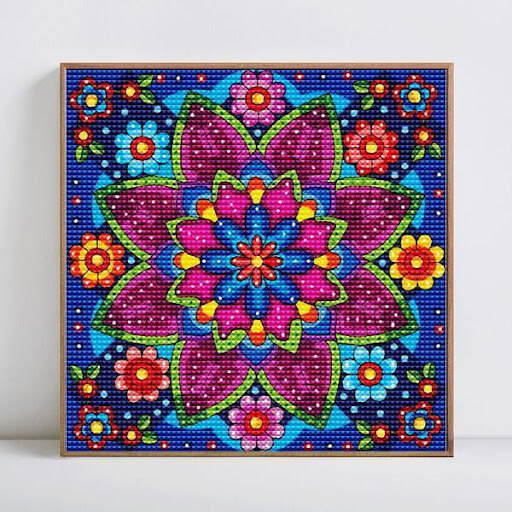 If you're looking for something brighter in colors and with a less intricate yet just as marvelous Mandela design, this one is for you.

Add an instant touch of spring to any room with the addition of this diamond painting, a great way to evoke the beauty of flowers even in the seasons when the air is cold and the leaves have fallen from the trees.
Bring some light to your home with this Golden Mandala Ornament, guaranteed to add a touch of elegance and style to any room.

The rhinestones used to create this design are made of resin and specially shaped to fit the circular canvas.

They include some lights to light up at night and creates an interesting challenge with a final product that you can place anywhere in the house.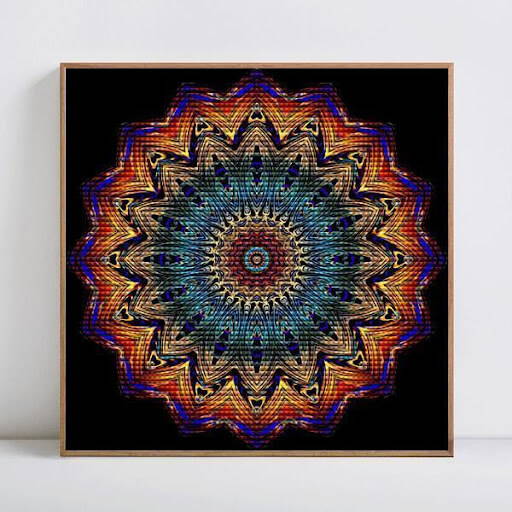 For a diamond painting that everyone will want to keep looking at, this Harmonious Mandala does the job.

There is nothing more satisfying than seeing how the lines and shapes in this design come together in harmony, full of color and intricate details.

A truly fun challenge for diamond painters that's both satisfying to finish and to admire.
Try this type of diamond painting for a crafting challenge that's not only beautiful but also full of meaning.

Plus, if you've fallen in love with the look and symbolism of Mandalas, we also offer a variety of accessories like bags, bookmarks, wall pendants, notebooks, pencil cases, and much more that have been adorned with these designs. Check them all out in our shop!