HOW TO BEST DISPLAY YOUR DIAMOND PAINTING

You've spent hours working hard on your Diamond Painting, placing each diamond in it's place, with an innate level of attention. Now you have reached the point where the painting is finished. After completing every step, including sealing your artwork, you are finally ready to display it proudly around the house.


All you need for that finishing touch is to proudly hang it in your living room or decorate your mantelpiece with a perfect frame..... the finishing touch for your creation. Managing a painting made out of little gemstone pieces can be scary when your biggest fear is ruining the tiniest little detail you have worked so hard to perfect 😬

While you could leave your painting laying around, folded under the bed or in a draw... your hard work and the beautiful artwork deserve to be seen!
That's why we've got these two suggestions for displaying your paintings.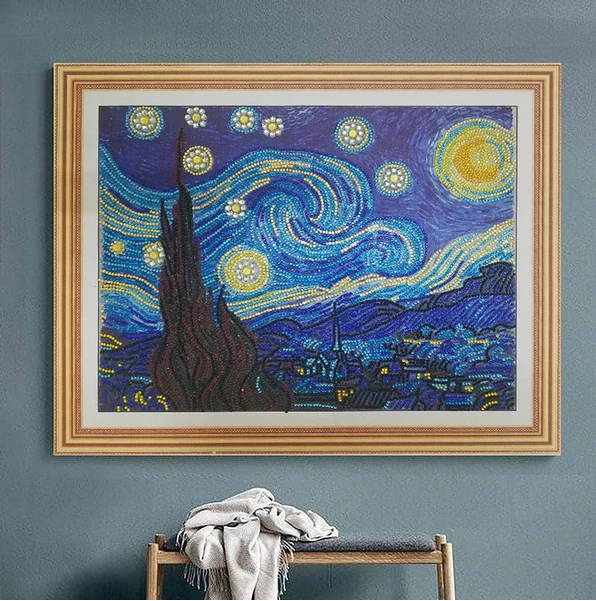 Things You Need To Consider When Framing

Glass frames. When deciding to frame your painting, the big decision you need to make is whether or not you want a glass frame. The main advantage is coverage of your painting with glass which will help protect your artwork for a very long time, keeping dust and dirt off.
One of the disadvantages is that, through a glass frame your painting will lose some of it's diamond shine . So at the end of the day it's down to what you would rather have, a brighter painting that you clean carefully or one that is better protected but that loses some of its shine.
Another downside is finding frames in the right size can be expensive, we have some great Frames for Smaller Diamond Paintings, but larger paintings often require expensive, custom framing.

Measurements. Before you do anything, start by measuring the painting. Once you know what size you are looking for, finding the right one becomes a lot easier! To measure a diamond painting you should avoid measuring the white boarder. This will make sure the frame only captures your beautiful painting, not the plain white edges.

Cleaning. While the sealing process gives you plenty of time to polish your painting, time will inevitably bring all that dust straight back to your artwork. To avoid this and maintain the clear shininess of your rhinestones, simply use a piece of cloth, without applying any pressure over the painting. Avoid using any water, steam or cleaning products. To clean your diamond painting you need to use the same gentle touch you used to bring it to life in the first place!

Alternatively, if you struggle to find a frame that fits the dimensions of your artwork, you can either use our extremely popular stretcher barsto frame it or simply get a custom made frame.

How To Mount A Diamond Painting To Canvas


If you think that your diamond painting is best suited displayed on a canvas then make sure to consider the following key points:


Always measure. Exactly like you would check the size of your painting to get the right frame, you also need to get the right measurements to buy the best canvas for your artwork. Different to framing, in this case you will need to include the white borders. When you are gluing the painting to a canvas, those borders will go over the edge of the canvas.

Only use good quality materials. Make sure that the type of adhesive you use to apply the diamond painting to the canvas is of high quality and that it will be strong enough to attach to every area. You wouldn't want to see your lovely hard work fall to pieces all due to cheap glue that needs to be re-applied continuously!

The best option? Try our Canvas Stretchers, the all inclusive option for mountain your Diamond Paintings on the wall for a large variety of sizes starting from 20x20cm/8x8inch all the way up to 60x60cm/24x24inch.

Now that you know all the different ways to display your new masterpiece there is nothing stopping you from showing it off to the world! Once you have admired your piece, triumphantly taking space in your house, why not get your creative juices flowing once again with another painting? Check out the EasyWhim shop to find the perfect diamond painting to display in every corner of your house!