HOW TO COMPLETE YOUR DIAMOND
PAINTING BY SEALING
Diamond painting is a hobby that brings a lot of joy and satisfaction to crafters around the world. Once you've carefully guided all the diamonds home, you can proudly admire your new creation. You know deep within that you chose a design that called out to you, amongst the many available and you spent hours meticulously working on your masterpiece, placing each stone carefully into its square to create a thing of beauty that you will cherish for a long time.

You know you can finally can step back and bask under the glory of your completed diamond painting. There is no better feeling than that and you can't wait to recreate that feeling again!

After all the work that you put into making this special painting, the last thing you'd want is for anything to ruin it. This is why diamond painters are carefully sealing their diamond painting. This process will ensure that none of the diamonds you placed on the canvas fall out or fall off the canvas. This gives you the peace of mind that your painting will sparkle for years to come.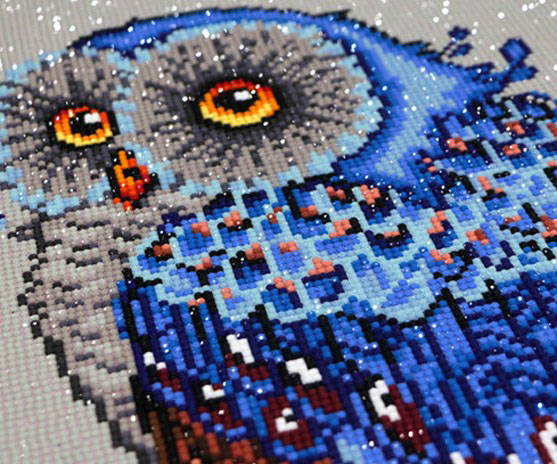 What You Need to Seal your Painting?


You may have most things required to seal your paintings around the house. Objects that are required to seal diamond paintings can be found in most homes, such as : a paintbrush, rolling pin, tweezers and cloth.

The main thing you'll have to buy is the sealer. There are a variety of products you can choose from to keep your diamond painting as good as new. When it comes to deciding what sealer to buy, find the one that best matches your favourite finish. Mod Podge Glitter is one of the most popular sealers used by crafters, however it reduce the shininess. A brush-on sealer is water-resistant but it will prevent you from being able to roll your paintings. Pick the sealer that gives you the result you dream to achieve!

How To Seal Your Diamond Painting
Here are the main steps to seal your painting:
- Make sure that all your diamonds are perfectly in place and flatten out the painting by first covering the canvas with either a plastic sheet or even a t-shirt. Then proceed by using the rolling pin over it, as if you are working on the shiniest of pastries! If you'd like to invest in a good roller have a look at the double roller from the Easy Whim Store.

- Get a piece of cloth to carefully cleaning the surface of your painting. You wouldn't want any dust or other substances stuck to your painting when it's complete.

- Get into the detail of your painting.....( if you are a perfectionist, you know what we are talking about!) grab your tweezers and go through each diamond to find any that may have moved or feel a bit out of their squares.

- Now it's down to the paintbrush to finish the job! Get the sealer of your choice and use small amounts of it on the paint brush, to gently apply all over the canvas with broad strokes. If you have chosen a spray-on sealer then make sure you spray it over the painting a couple of times, to ensure that it covers every inch of your canvas.

- This might not be the first and last time you apply a sealer to your painting. Check the durability of the product you have chosen and repeat application as often as the instructions advises you to do so!

- Make sure that when you are using glue you are applying it only over the diamond beads. If you have a painting that includes normal paint, you must avoid those areas while applying the sealer.

- Be careful with the amount of sealer you use, the more layers you apply the less shiny the your diamond painting might look.

- Most of all, take your time. Don't rush! Examine your painting a few times to check diamonds are in place before applying sealer to avoid noticing errors when it's too late :( .
- Check if you like the sealer you have chosen before using it all over the canvas by applying it to a small area first. That way, you can change your mind and try something else :)

Why wait, Treat Yourself now.......
Et voilà! Once you are done with the sealing process, you are ready to show off your masterpiece anywhere you want.

Now that you know how to finish, it's time to get started on creating your new painting, have a look at all the diamond painting kits we have on offer at EasyWhim.