HOW TO ORGANIZE A REMOTE CRAFTING SESSION
Crafting with friends and family has always been a great way to catch up, have fun and create new memories as you enjoy the company while working on your craft projects. Currently, many of us aren't able to come together under one roof, technology allows us to keep meeting up remotely and, why not use technology to also take part in crafting sessions via Skype, Zoom or Facetime?
Interested in hosting your own remote crafting session? Here are some tips to get started the right way ensuring an enjoyable time for all!
Note:You may already have a great program for video calling already and can use what ever you're most familiar with. If you don't have an program or app, you can download Skype or Zoom free for computers, phones & tablets. Simply Google each to learn which is best for you and your attendees and read on...
CHOOSE THE CRAFTING PROJECT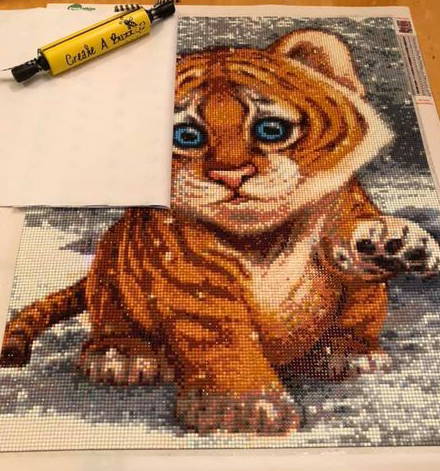 Once you've decided which video calling platform would work best for you and all of your friends, it's time to pick what you're going to do on the day. This will vary depending on whether your pals are ones that love to craft or people who have never tried before.
For those that love to craft, you could just pick up from where you left off at the last crafting session you could do in person, or maybe have everyone order supplies for a new project that you can do from the start at the same time remotely. For example, everyone can choose a diamond painting kit or wooden puzzle that you can all unbox together and start working on for the crafting session!
For friends who have never tried to craft before, you could consider choosing a DIY project that focuses on using supplies that can be easily found at home like cardboard, yarn, or paper. A nice idea would also be to send them a craft box with all the supplies they might need, just in time for the crafting party, including a colorful invite that sets the time and date.
That's a fun way to get them excited about what's to come.
PREPARATION TIPS FOR YOUR SESSION
As the host of any party, you'd be looking to organize things in advance to try and minimize any issues. The same thing applies to remote parties, so here are a few suggestions that you could try to make the virtual crafting session go as smoothly as possible:
TIP 1: Ensure that everyone knows how to use the video calling platform you pick
Save yourself time spent trying to explain Zoom or Skype to your friends or family by choosing something everyone is familiar with, or even offering some help beforehand.

If all your friends have iPads or iPhones you could even use Facetime!
TIP 2: Try out your project in advance
if you're planning something new that is a bit complicated, a good idea would be for you to give it a go in advance to check if it's really doable.

This is especially important if you have attendees who are not usually into crafts!
TIP 3: Technical & location preparation
Avoid panicking last minute as you realize that the spot you've chosen for the call is too dark or noisy by checking it in advance. Inform those who live with you on what date and time you'll be hosting the session to make sure they won't accidently interrupt.
To avoid distractions, avoid to use virtual backgrounds available in tools such as Zoom! They limit what other people can see of you and that's especially messy if you're crafting and sharing your progress video.
The most important thing is to have fun. Don't worry too much about things going wrong or the crafting project not coming out as you expected it. Technology can be fussy and sometimes issues will arise even if you've done all the prep work possible.

We're sure that your friends and family will have a good time nonetheless!
Give your loved ones something to look forward to by organizing a regular session that happens every month, fortnight, or even week. If you like the idea of organizing a crafting session where you all work on the same diamond paintings or wooden puzzles, ordering kits for everyone is super easy! We have plenty of painting options to cover months of remote and in-person craft parties, available at different levels of difficulty to make it more of a challenge as you all improve with time. Check them out and start planning today!