By Recycling Plastic Bottles!
In the fight to protect our planet, every little bit helps. Plastic is renowned for being difficult to recycle and yet widely used everywhere, so it's important that when we use plastic we think of ways to extend it's lifecycle. Instead of plastic away to pile up in landfills, we can use the power of crafts to transform something as simple as plastic bottles into a creative (and practical) piece of art.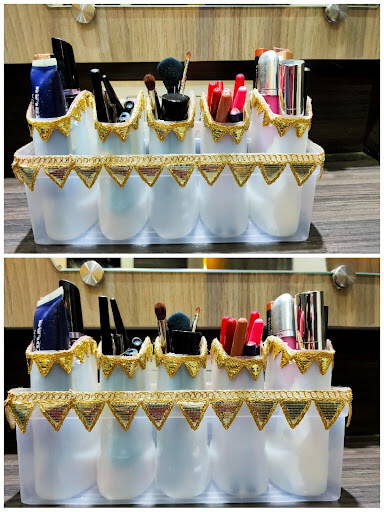 Plastic Bottles Repurposed
Plastic bottles were made to contain mostly liquids but that doesn't mean that they can't be transformed to contain other things. Get your scissors out and turn these empty bottles into your handy new containers for anything you can think of (Diamond Painting tool storage anyone?). Seriously, the plastic can even be warmed up slightly so that you can easily mold the bottle to whichever size you prefer:


This a great and simple way to change the appearance and make it less obvious that these are just plastic bottles. Want to change their look even more? If you're not so keen on keeping them as plain plastic, you could paint them or get creative by attaching some decorations to them with glue.
Create Storage for Crafts
All you need is some strong clue and a good eye for detail!


Got any zippers hanging about that also need to be repurposed? Then here is an idea - cut your bottle in half and use a hot glue gun to attach the zipper to the opening of the bottles and suddenly you have a really original pencil case: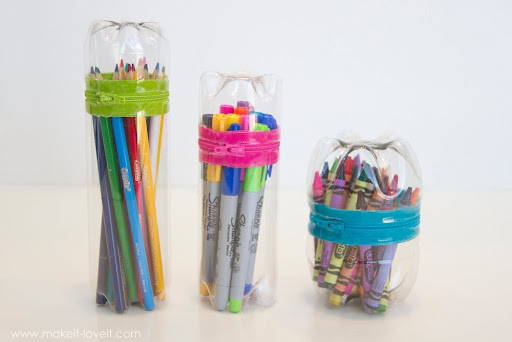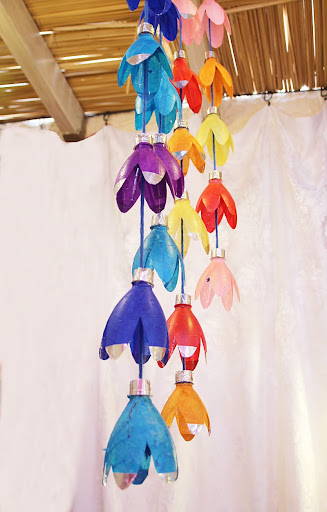 If you're willing to go all out and try to find ways to decorate your home with all of your empty plastic bottles, then you're in luck because plastic is a great material to play with.

To add a little color to any room, you can try cutting the tops of the plastic bottles in the shape of a flower, gluing some colorful tissue paper over them, and then using some string and large beads to get all the plastic flowers hanging together (the beads are located in-between the "flowers" to hold them together).
For an idea that would be fun to work on with kids: create a cute character, in this case a penguin, with a plastic bottle. All you need for this is some glue to attach the two bottom halves of bottles together (but upside down), a paintbrush, and some paint. Plus some colorful fabric if you want to give it a little scarf: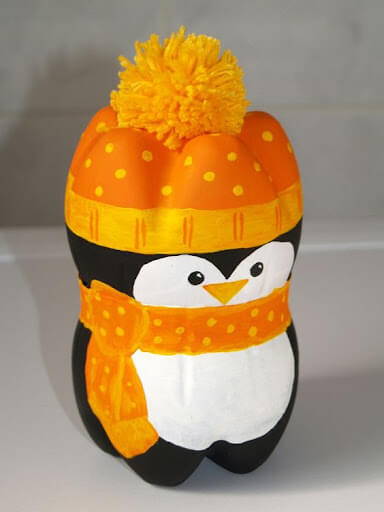 Or if you're looking for something more creative, get your paintbrushes out and try these super cute DIY vases.

By simply adding 'ears' to the bottle by cutting out some paper and painting it you can get an original and cute way to get the kids involved with looking after your plants. We bet you wouldn't have even noticed that these cute animals were plastic bottles if we hadn't told you!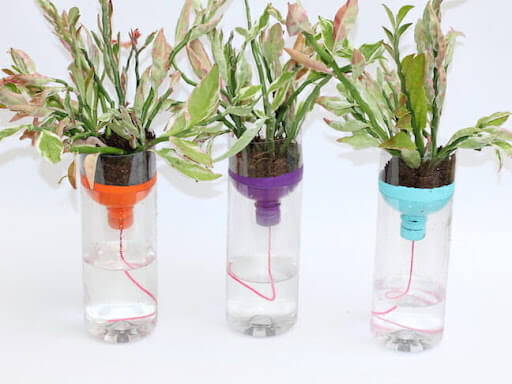 One of the most common ways to recycle plastic bottles is to turn them into vases for plants.

It can be as simple as cutting your bottle in half and filling the top part with your plant, filling the bottom with water, and using a piece of yarn that goes through the lid to pass the water to the plant:
What about the plastic caps? Well, why not unlock our inner artists and use them to make a fantastic mosaic

. You can either match them together based on color or get some paint on them to create your palette. Then all you need is some glue and a canvas and you're ready to go!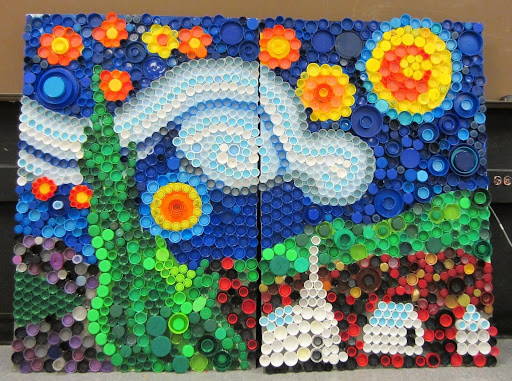 These ideas also make a great group crafting project as most people would have plastic bottles available somewhere in the house to use, and they represent a great lesson in re-using products that can't easily be recycled. If you're feeling inspired to get creative but are looking for something different, you can always check out our huge selection of diamond paintings and other DIY crafts. Unleashing your inner creativity has never been easier!