Have you just started diamond painting and don't know where to begin? Or are you experienced in this craft and looking for new challenges? We have created TWO eBooks to help you find your colors easily and explore new exciting patterns on a blank canvas.
Unleash your creativity today with these amazing, FREE and instant downloads!
Say goodbye to constantly looking up DMC numbers while you are busy in your 'creative zone', get this eBook next to you and Diamond Painting will be even better.
Let your imagination run wild with this complete color guide, featuring every color you'll ever needed for your Diamond Painting! It can become your new crafting companion, helping you figure out how to create a design quickly and saving you headaches anytime the drill packet arrives with no DMC number.
Thanks to this eBook, FREE when you shop our clearance sale, you'll have the DMC number and a color swatch of each diamond color, sorted both numerically and by shade. It can become your go-to friend for every diamond painting project, making it simple for you to distinguish each color from the other.
Plus, it's a beauty to look at!
The Diamond Painting Pattern Collection Volume 1
Enjoy our volume one collection of diamond painting patterns, perfect for any passionate crafter.
Diamond Painters can use the included patterns as a starting point and enjoy tackling a new and unique Diamond Painting challenge.
Just grab your existing DMC colors and white canvas to get started, following any of the 15 beautiful patterns. Those who have been diamond painting a while and want to take their craft to the next level will especially enjoy starting from scratch and having only the patterns in this eBook to follow!

Each of the 15 designs included in this collection include a size chart with all the symbols, DMC numbers and the quantity of diamonds required for each design. Each symbol matches with the DMC color code chart so that you will always know which diamond you have to use and where to place it.
Don't have a blank canvas or enough DMC Diamonds? For every design there is a link to a special blank canvas product that includes all the required diamonds! Perfect if you want to experience the challenge of Diamond Painting from this pattern eBook but don't have the prerequisite colors and blank canvas yet!
With 15 patterns ranging from nature to animals, landscapes and fantasy there is a design for everyone so why not use this eBook and start a new family activity where everyone can enjoy working on a pattern!
Valued at $14.99, your FREE when you spend $20 in our Diamond Painting Clearance!
Save Up To 70% Plus Get These Great Gifts Free When You...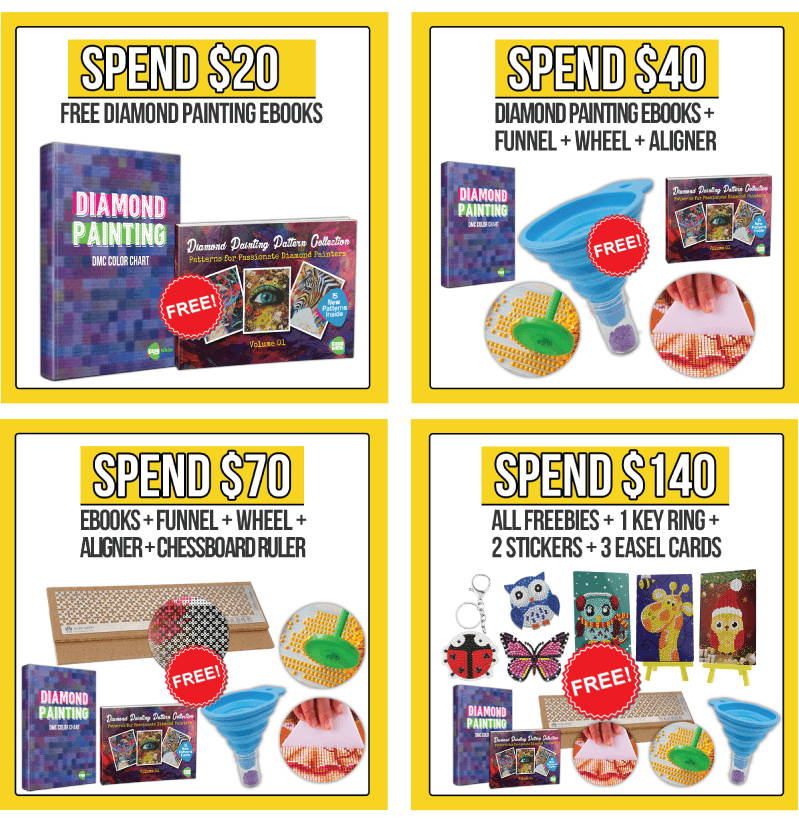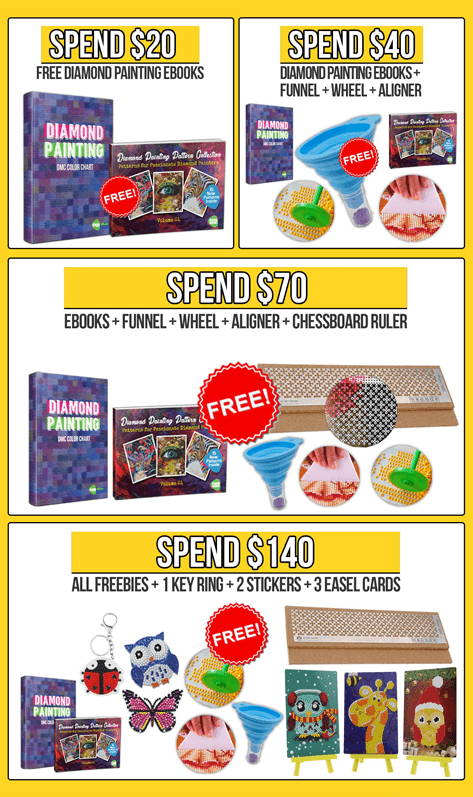 In Our Diamond Painting Clearance!