Ever wish that shopping for new diamond paintings was quicker, more convenient and more fun?! Wish no more!
Today we're talking about our favorite Easy Whim site features, designed to save you time and give your craft shopping experience a serious upgrade! We'll show you why having an Easy Whim site account makes shopping for your favorite hobby more convenient and how to use the handy store wishlist feature to plan your next big project.
Are you ready? Let's go!!!
THE EASY WHIM STORE ACCOUNT AND HANDY SOCIAL LOGIN FEATURE!
If you've been using guest checkout to make all of your Easy Whim store purchases, you've been missing out on some amazing features! With a store account you can save time on future orders by storing your information...eliminating the hassle of filling out forms at checkout next time.
You'll also be able to use our handy wishlist feature to save your favorite paintings and plan your next order (but more on that later!)
As you can see, setting up an Easy Whim store account has plenty of perks - but who needs one more password to remember?! No one! That's why we've made creating and logging into your store account easier than ever with the social login feature...and we're going to show you exactly how to use it!
To create or login to your store account, click the "My Account" button on the top right corner of the Easy Whim home page. On the next page you'll see the social login buttons - for Facebook, Google, and Instagram. With one click, you can createor log in to your Easy Whim store account...no creating and remembering another password or dealing with the hassle of finding a confirmation email. With the social login feature, you've got instant account access in one click...anytime!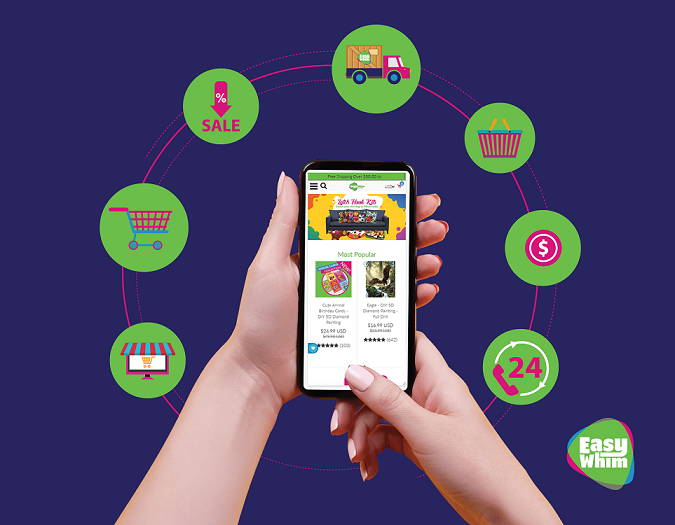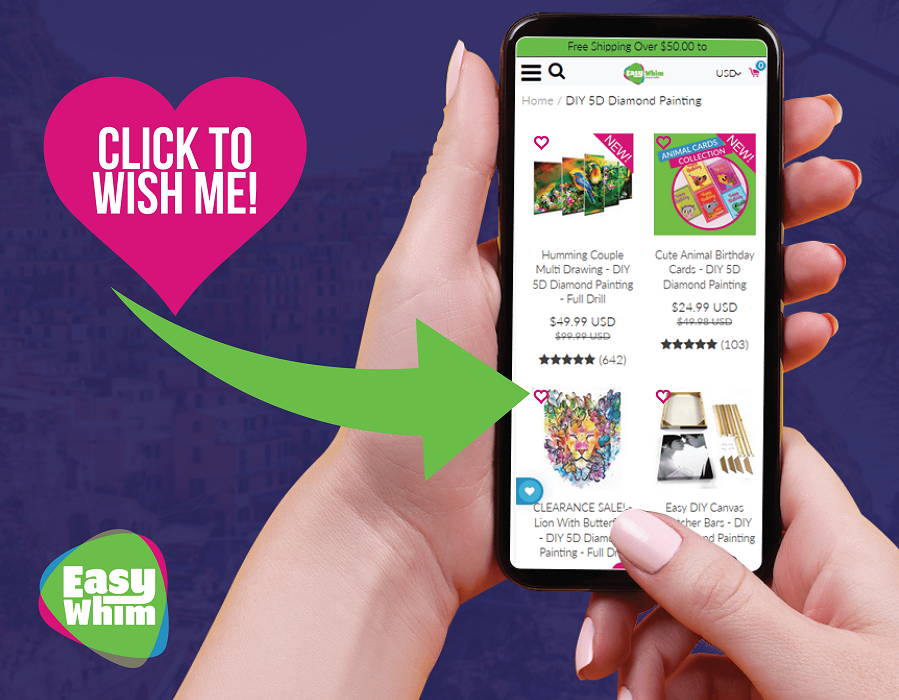 THE HANDY-DANDY WISHLIST FEATURE!
Have you ever noticed the little blue hearts in the top right corner every Easy Whim product photo? If you haven't - take note! Those little hearts are the fastest way to save your favorite paintings, accessories and craft kits while you're browsing. That's right...we're talking about the wishlist feature! With an Easy Whim store account, you're able to browse, select, and save your favorite items so that they're waiting for you when you're ready to checkout - even if it's days, weeks, or months later!
Using the wishlist feature is like building your own diamond painting "look book"! Use it to plan your future projects, see how different designs look together, and save yourself the hassle of having to find your favorite designs every time you're shopping.
And the best part? Within you wishlist, you can create different lists to keep all of your favorite designs organized! Whether you want to make unique collections for holidays, gift ideas or interior design projects, Easy Whim's wishlist allows you to be versatile with your craft planning. You can even share your wishlist collections on Facebook, Twitter, Pinterest, or by email with the convenient social share buttons located at the top of your wishlist area. Pretty cool, huh?
Ready to start exploring all of these amazing store features? Head on over to easywhim.com and start upgrading your craft shopping experience today. Feeding your creative obsession has never been so convenient, quick, and fun!